Welcome to the SHOPMYCLOSET shop-blog!
♥
About Us
♥
We are a collective of young womyn dedicated to forward-thinking and fringe-defining fashion. We all share a love of conspicuous consumption, innovative design, and collaboration. Together, we developed this blog to share items from our own closets, our thoughts on fashion and design in general, and tips on how/where/when to shop. We hope you will continue to join us as we embark on this new fashion adventure...
About ♥c
The creative genius behind SMC, C spends her days thinking up elaborate plans of one day opening her very own independent clothing boutique! Her insights in fashion stem from a passion for vintage pieces/fashions. C loves thrift shopping, shoes, snowboarding, films, music, laughing, crying, eating, and just about everything under the sun!
c@shopmycloset.com
About ♥k
An enthusiast of design magazines + books, vintage buttons, and eating! Loves going to events and posting events. She likes to venture out to different cities and explore local boutiques. Never leaves the house without earrings on. Her sewing machine is as old as she is. She plans to one day open up a creative space in the near future.
k@shopmycloset.com
About ♥d
You'll most likely find her wearing boots and carrying a big purse full of random goodies. She enjoys finding deals on everything (seriously, everything!). Loves to eat cheese, ruby red grapefruits, sashimi and Vietnamese sandwiches (not at all once)! D has found happiness living, schooling and working in New York.
d@shopmycloset.com
About ♥j
Coming Soon!
She's a talented make-up artist that loves to dance, dine & wine, and explore new places!
j@shopmycloset.com
♥
History
♥
ShopMyCloset originates from the creative genius of C. who decided to turn her vast personal inventory of eclectic clothing, shoes and accessories into an appt-only home boutique. Due to extenuating circumstances, the original brick and mortar store is now closed. However, spirit of ShopMyCloset has been reborn in blog form. The ShopMyCloset experience of buying personally curated fashion products can now be had in the comfort of your home instead of C's!
We hope to create a space where like-minded folks can exchange information in an open and honest dialogue; so please share your opinions and fashion insights by leaving comments on the posts! ♥
♥ To contact us, email shopmycloset@gmail.com
♥ Share your opinions and fashion insights by leaving comments on the posts! Let's keep the dialogue going!
♥ Show love: leave
testimonials
♥ Join our
MYSPACE
or Friendster!
♥ Join our Facebook!
The ShopMyCloset Boutique, January 2004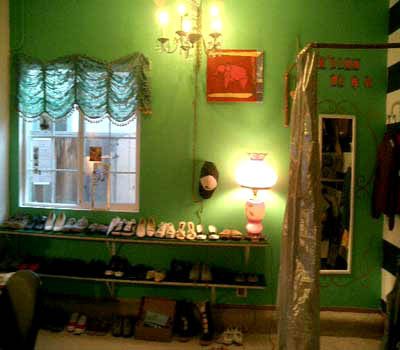 The
ShopMyCloset
Garage Sale, June 2004 & September 2004

ShopMyCloset Plastik Button Earrings!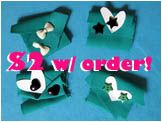 Our 1-year shop-blog anniversary sale in February 2006